Events
- Make financial freedom a reality - employ your money
- Now you can invest from 10 EUR
- 700+ new users every month prove that it's easy to invest in NEO Finance
- Start preparing for your and your children comfortable future today!
Online training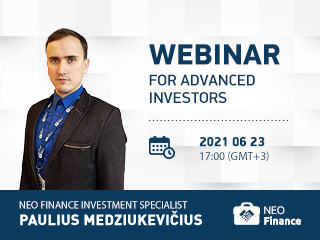 Webinar for advanced investors
Left until the end of registration: 2d. 22h 48min.
We invite our investors to webinar, where NEO Finance investment specialist Paulius Medziukevicius will introduce these topics:
Historical return of the tool, comparison with other asset classes;
A+ 100% buyback guarantee;
Manual and automatic investment in the secondary market;
C and C-rating;
Separate accounts;
Investments recovery;
and will answer all the participants questions.
Did not find a suitable event?
Sign up and receive information on all NEO Finance events